Buying a Property? Protect Yourself With These Conditions
Know what you're Signing...
"Standard Clauses" are not standardised
Standard inspection clauses do not always protect the buyer
Structural inspections are only part of the equation
Problem
There's a hidden problem most are not aware of when purchasing a new home. By signing the real estate's agents 'standard clauses' the purchaser is left with the impression they are protecting their interests by electing to have a 'structural inspection' and 'timber pest inspection'. However these clauses are usually relatively vague and open to interpretation and what most purchasers aren't aware of, there is nothing standardised about those clauses.
On a regular basis when assisting a client purchasing a home I have identified major defects and safety hazards in a home that the purchaser was blissfully unaware of. These defects can add up to significant sums of money to repair. When these issues are found & reported on, the purchaser will then forward the report to the agent with a list of items that need repair prior to settlement, which usually triggers dispute and an interpretation war of the word 'structural'
When carrying out a pre-purchase property inspection, Independent Building Inspectors should always, and generally do, adhere to the Australian Standards AS4349.1 Inspection of buildings - Pre-purchase inspections - Residential buildings.

Table 3.3 within this standard defines 6 different categories of defects (damage, distortion, water penetration, material deterioration, operational or installation) and the inspector will utilise their experience in the field to grade that defect as either major or minor in its relevant category.  This is very different to how the 'standardised' structural inspection clauses are laid out... and as such will often generate a conflict between the so called 'standard' structural defect clause and significant defects that the purchaser wanted to be aware of. Thus allowing them to fully consider their position on buying the home, and the price at which they offer.
Let Me Give You Some Examples
Know what you're Signing...
"Standard Clauses" are not standardised
Standard inspection clauses do not always protect the buyer
Structural inspections are only part of the equation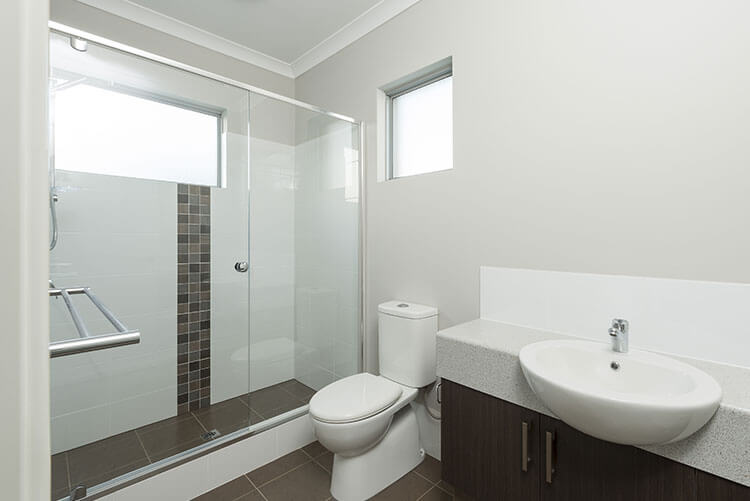 Leaking Showers
When carrying out a pre purchase inspection on a recently renovated home I observed that the shower screen had been incorrectly installed, leaving over 100mm of untiled surface on the wall. the bathroom directly behind said shower was tiled to the ceiling so the water ingress wasn't immediately apparent to the casual observer.
Now you may say that someone buying a house should have noticed something like this, but as most of you who have purchased a property before will know, you are in and out of so many different homes during allocated inspection times trying to make the most of your Sunday afternoon.
By the time you have shortlisted some properties and decide to put an offer in, the second inspection is usually spent dreaming about where you are going to place your furniture rather than inspect every inch of the fabric of the home. After all you have planned to have a professional do that for you.
- Leaking showers is one of the most common defects my trusty moisture meter and I find while doing Pre Purchase Inspections.
Wall Due For Collapse
On another occasion I again was carrying out a pre-purchase inspection where I observed a brick wall dividing a free standing carport and a swimming pool was cracked through its base, and vertically up the center. The whole wall was moving, I could move it with one hand, and due for immanent collapse in a stiff breeze. The deck chairs for the swimming pool set up right beside. On closer inspection I observed attachment points on the wall for a previously installed shade sail that was once installed over the swimming pool. It was likely this shade sail had overcome the wall with lateral stresses it was not designed for and broken it.
- Fences and structures not part of the main dwelling are often excluded from 'Structural' clauses in contracts
What generally follows is banter between the sales agent who is worried they're going to lose a sale, and the Building Inspector who has just done their job and reported as they have observed. There's twisting of words and interpretations of vague clauses about what technically is "structural", or "fences are not included", which does nothing but cause uncertainty and anxiety for both the seller and the purchaser.
Spirit of the Clause
The main driving factor behind a purchaser hiring a professional inspector, be it building, pest or any other specialist inspection is to get a clear picture of what they are purchasing, in order to make an informed decision with all of the facts at hand. Do I want to buy this property? What is it worth? What will I need to spend after buying it? What have I missed?
WHAT CAN I DO ABOUT IT?
There is nothing stopping you as a purcheser from providing your own conditions of contract that accurately set out to describe what you hope to achieve by having professionals give you an accurate health check on the property before moving ahead to settlement. Because the last thing you want to do is to be forced into buying something that turns out to not be what you hoped it was, what you saw when you walked through and saw that gorgeous kitchen and outdoor entertainment area.
We have put together a clearer annexure to contract you can download and use at your discretion. Please be aware that it is to be used at your own risk and is provided on a no liability basis. We recommend you appoint a settlement agent prior to making an offer and establish your conditions of contract with them before you enter into a contract to purchase making sure it encompasses all of your specific needs.
Following acceptance of contract, you then have ample time to have a comprehensive property inspection covering all aspects of home and associated structures carried out by a professional and qualified building inspector, as well as any other auxiliary inspections required such as Timber Pest Inspection, Swimming Pool Equipment Inspection etc. so that you can be fully aware of what you are purchasing.